Watch the full presentation video below: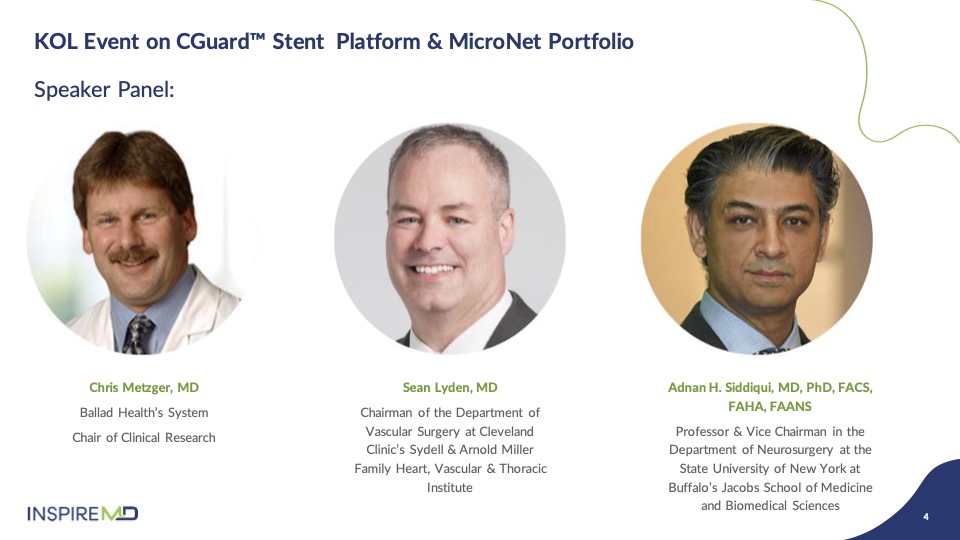 Thank you all for joining the call today. I am Marvin Slosman, CEO of InspireMD, and it's truly a pleasure to have been able to assemble this world class group of physicians, all leaders in their respective specialty in vascular medicine, here to share an important update on the trends in carotid disease management and stroke prevention. With us today are Dr. Chris Metzger at Ballad Health System in Kingsport, Tennessee, Dr. Adnan Siddiqui from Gates Vascular and Jacobs Institute in Buffalo, New York, and Dr. Sean Lyden from The Cleveland Clinic.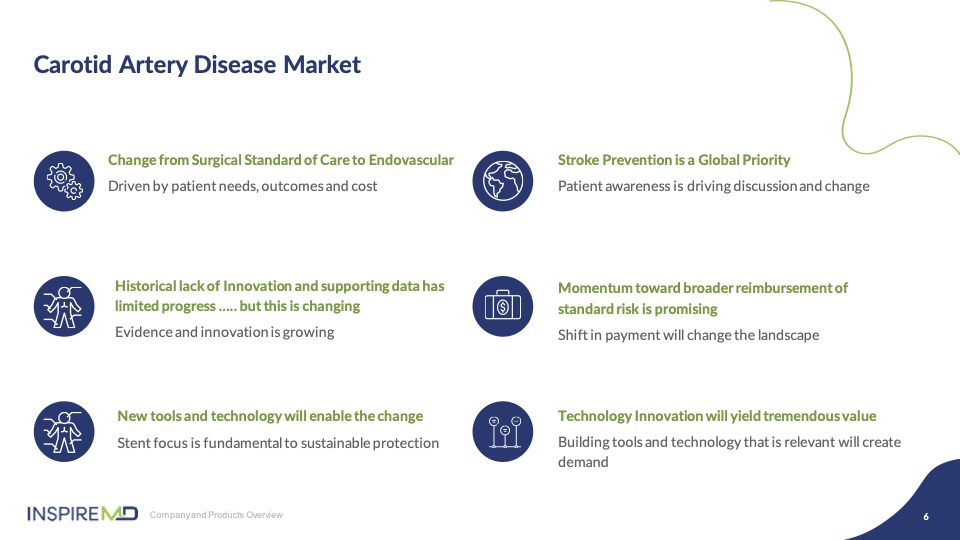 Carotid disease management is the final segment of vascular medicine that remains a surgically dominated procedure. Transition to an endovascular standard of care has been slow, due in large part to the lack of technology and innovation to replace surgery as a first line option. At InspireMD, our entire focus as a company is based on the foundation of building and marketing a stent system, CGuard EPS, that disrupts this change from open surgery to endovascular standard of care for improvement of patient outcomes. CGuard's advanced MicroNet™ Mesh has proven to be the catalyst to maintain post-procedural cerebral protection with over 27,000 devices sold to date, tested in real world and ongoing studies with unmatched evidence across the broadest base of physician specialists treating carotid disease, to enable this transformational change. I think today's panel is a great example of how this remains our priority.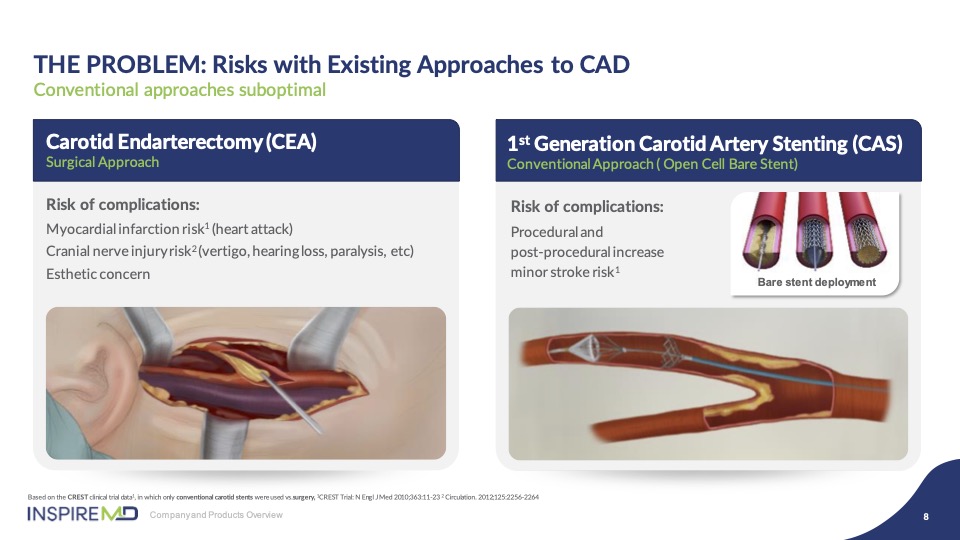 Carotid endarterectomy is a surgical procedure which you will hear much about today which remains the standard of care, but with all the associated surgical risk. The transition to an endovascular approach was ambitious and promising to enable this change. However, the results are proving that first generation open and closed cell stents have inherent weaknesses in their design which limit significant improvement of outcomes against surgery.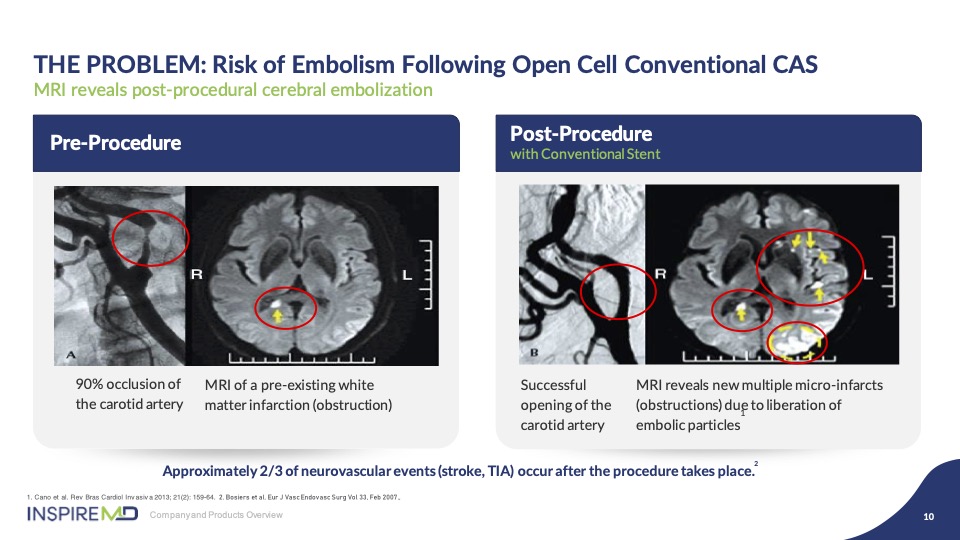 As you can see from these images, on the left is a tight stenosis and associated MRI image of the brain infarct, and on the right, following stenting, you can see an improved angiographic result, but due to the plaque prolapse through the open cells, particles are released into the brain causing post-procedural strokes, as demonstrated by the white spots.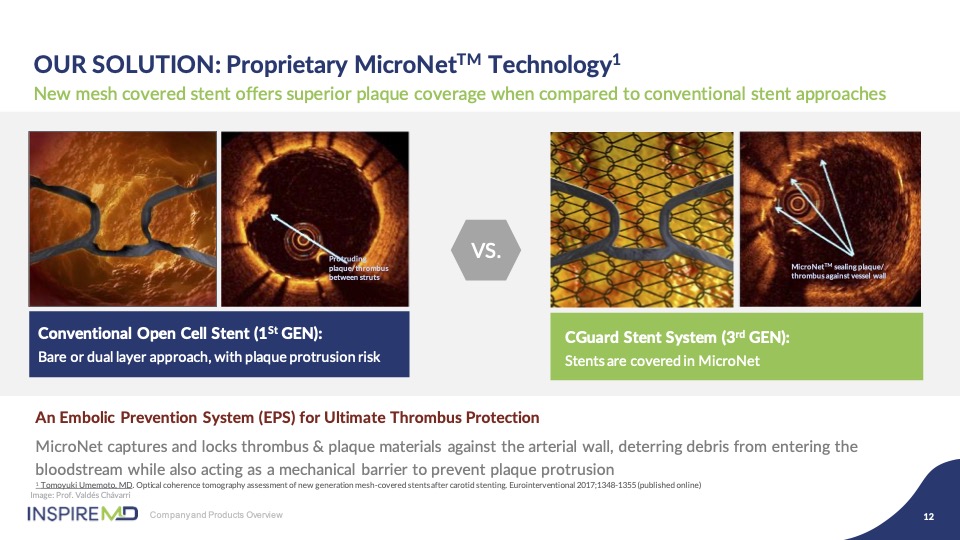 To demonstrate the value of MicroNet™ Mesh, the images on the left show the exposed open celled struts of this first- generation device associated with an with an IVUS image of the lumen of the artery where you can visualize this protrusion of plaque, while on the right hand side you see how the mesh CGuard embeds itself against the artery wall to protect this plaque prolapse and maintains protection to the brain with a clean lumen of the artery.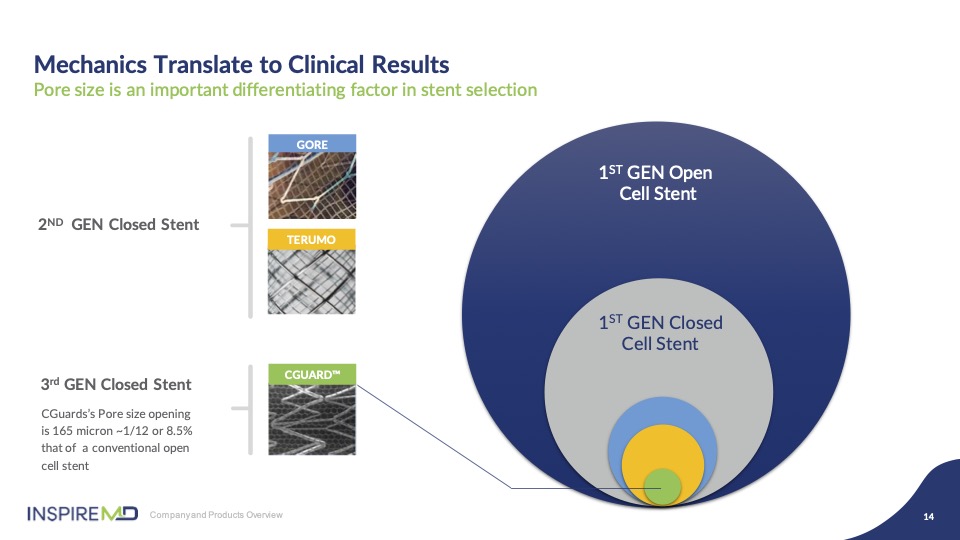 After many years of design and development we believe we've optimized the best of stent scaffold design in combination with mesh pore size to allow flexibility and strength while building up pore diameter of our mesh that prevents damaging embolic particles from escaping to the brain. As you can see graphically there's a significant size difference in pore opening, exposing plaque to the artery with other devices.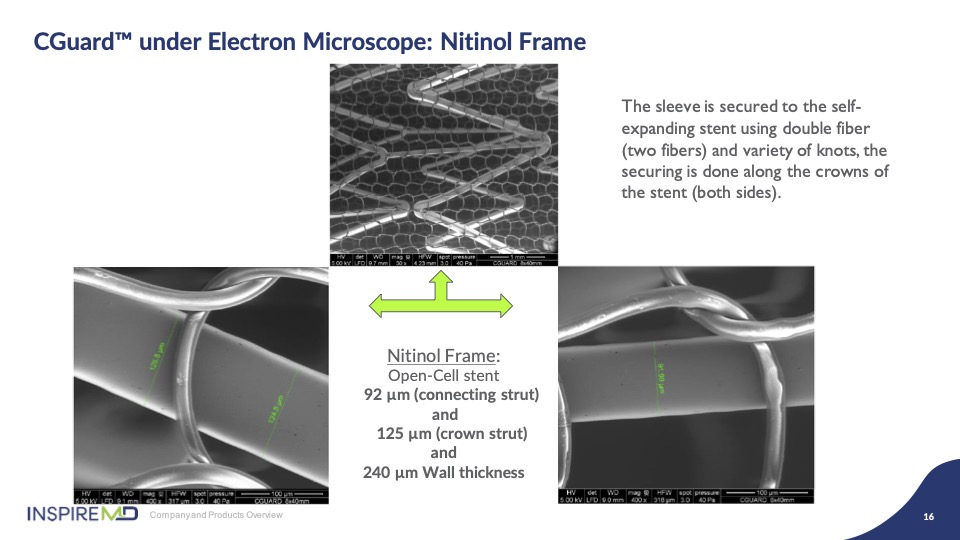 Under electron microscope you can appreciate the stent structure in combination with the mesh; remember 20 microns is roughly the diameter of a human hair, for reference.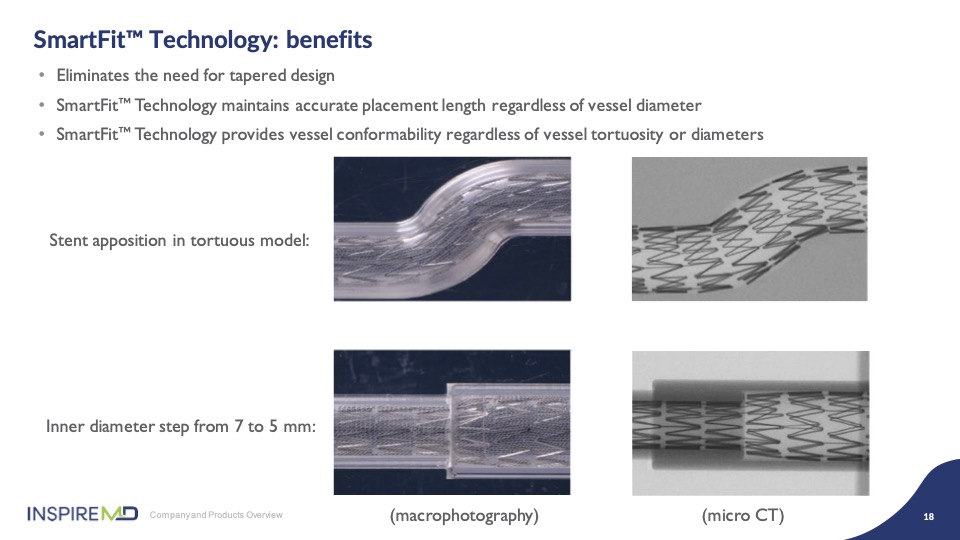 Another unique feature of CGuard is built into the geometry of the stent frame that provides for tapering of the vessel to gain optimal apposition to the wall. As you can see in the model, the stent tapers nicely to conform with vessel sizing; this is what we call SmartFit, and it provides not only a clinical advantage, but also allows fewer size used to be stocked in labs as a result of the ability to upsize the stent. I think Dr. Metzger will share his experience and preference of these sizes.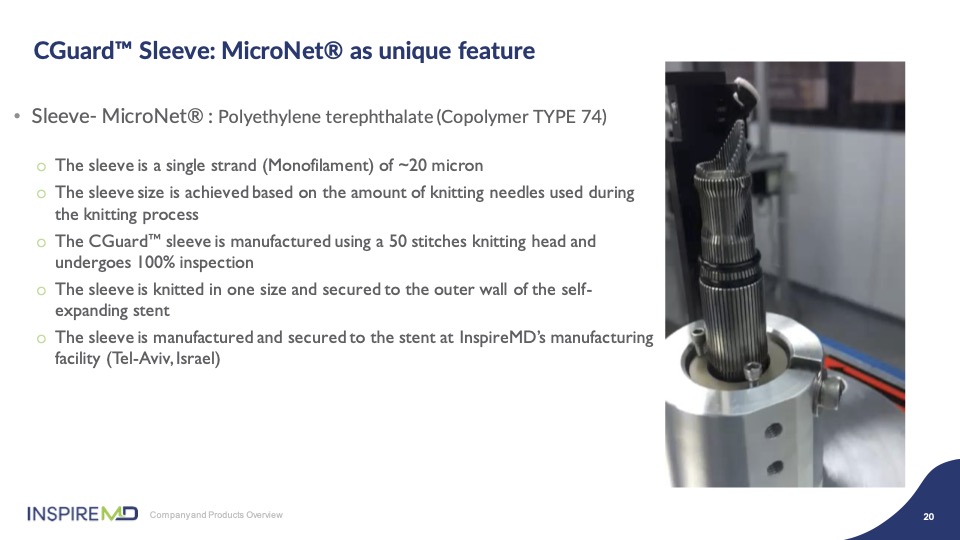 Finally, for reference to our mesh innovation, we use a proprietary method of knitting the mesh fiber into a sleeve, which is then applied to the exterior of the self-expanding stent structure. This technology is manufactured and applied in our facility in Tel Aviv.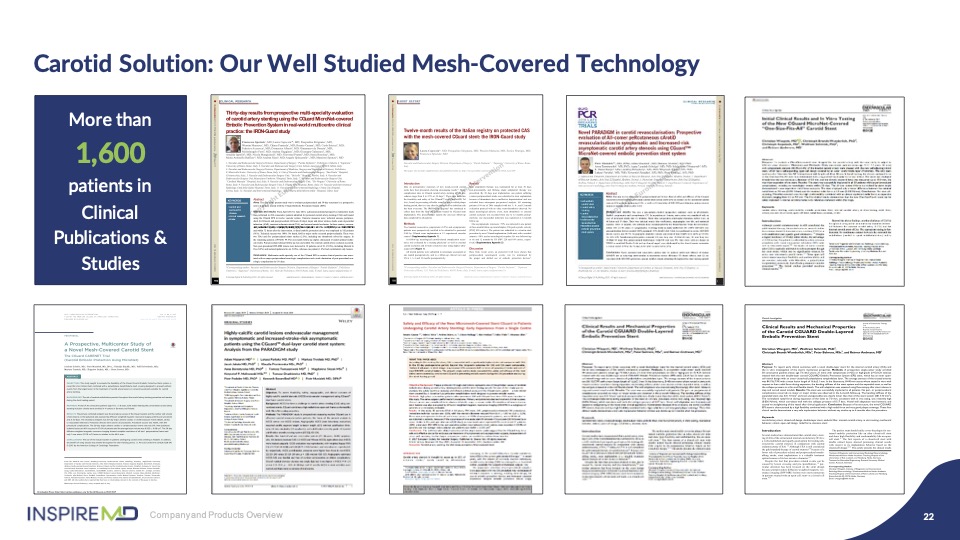 Turning our attention now to data and clinical results- we have data from over 1600 patients in multiple studies with some being followed up to five years, demonstrating the superiority of CGuard through this unmatched body of evidence. Our panel will certainly comment on the value of this evidence as a lever to driving adoption both in current practice and additional indications.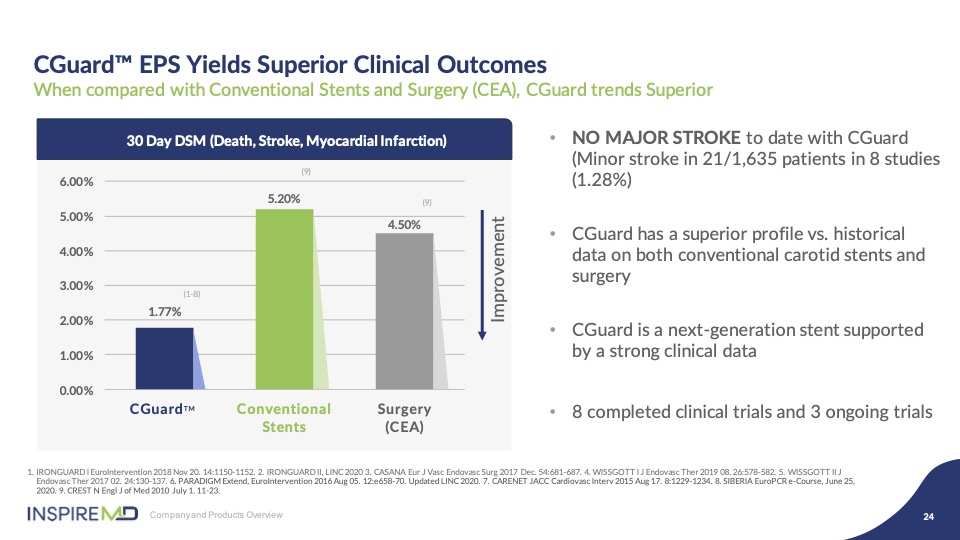 When you aggregate the data across these numerous clinical studies, which includes 1650 patients, the result for CGuard delivers the lowest 30 day DSM against both CEA and first generation CAS, by significant percentages. Additionally, we have long term data to support consistent late outcomes out of the five years, reinforcing the biological response our mesh, as compared to double layer competitors.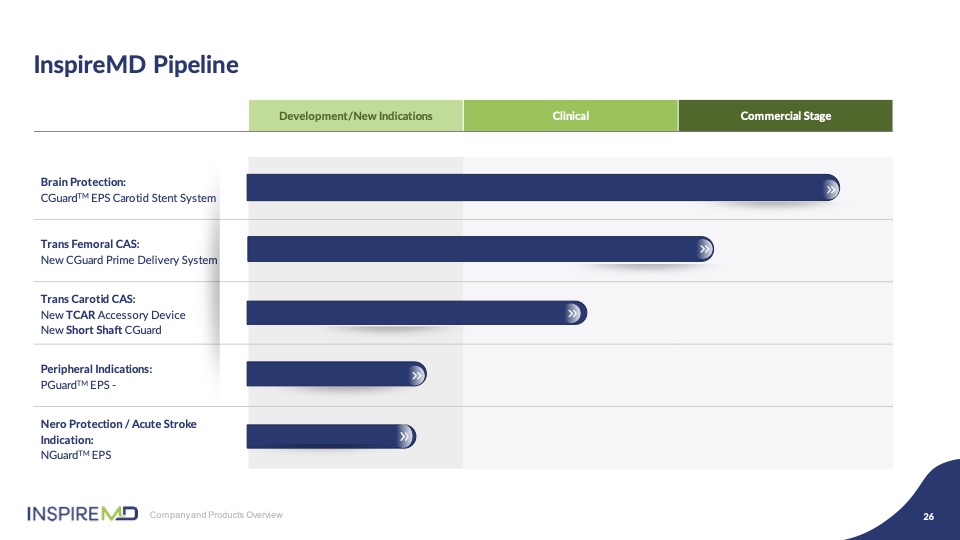 Finally, our pipeline of innovation remains full including a new transfemoral delivery device, CGuard Prime, TCRA accessory device SwitchGuard, as well as advancing indications where we believe that the MicroNet™ Mesh has unique capabilities. We look forward to advancing our plans to deliver new and innovative devices built around our CGuard stent system. And it's now my pleasure to introduce Dr. Chris Metzger to present his perspectives- Dr. Metzger, go ahead.