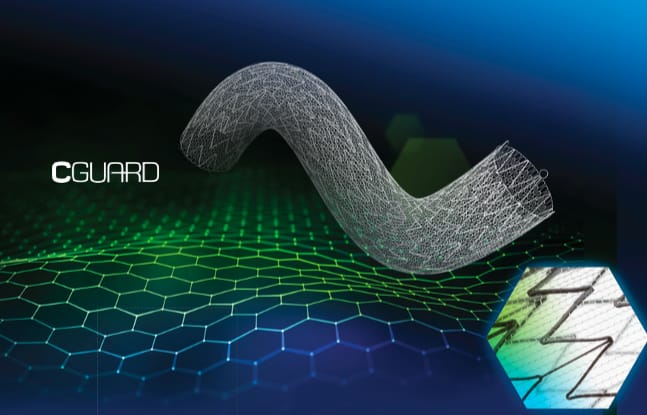 CGuard™ EPS is an investigational device in USA
The CGuardTM Embolic Prevention System (EPS) is a novel mesh carotid stent designed to improve patient safety through sustained embolic protection.1,2
What makes CGuardTM  (EPS) unique?
 

Dual Layer Design


Combines the largest open-cell frame of available carotid stents with the smallest mesh pore size3

MicroNet™®

Prevents plaque Protrusion through the stent, for lasting embolic protection demonstrated for up to 48 months1

SmartFitTM technology

Eliminates the need for tapered version and supports accurate vessel wall apposition2,3
---
CGuardTM EPS is designed to reduce the risk of both early and late embolism4
CGuardTM EPS is designed to prevent peri-procedural and late embolisation by trapping potential emboli against the arterial wall while maintaining perfusion to the external carotid artery.2,4
Data from the PARADIGM-Extend study in patients with symptomatic or increased-stroke-risk asymptomatic carotid stenosis demonstrate sustained embolic protection with CGuardTM EPS over a 48-month follow-up period:1
 

1-2 months 

(n=311)

13-24 months

(n=205)

25-36 months

(n=108)

 37-48 months

(n=61)

Any stroke
0
2
1
2
Stroke-related death
0
1
0
1
Myocardial infarction or non-cerebral vascular accident
3
3
2
2
See how CGuardTM EPS is deployed
The rapid exchage (Rx) system delivers the self-expanding CGuardTM EPS to the carotid artery where it adapts to the vessel diameter, eliminating the need for a tapered design.2,3
CGuardTM EPS in action
InspireMD has established CGuardTM Centers of Excellence at leading hospitals in Europe to help educate and share experiences with CGuardTM through workshops and live cases.
Watch case studies of CGuardTM EPS implantation performed at our Centers of Excellence.
Product Details:
Indications: The CGuardTM EPS is indicated for improving carotid luminal diameter in patients at high risk for adverse events from carotid endarterectomy who require carotid revascularisation and meet both the following criteria: Patients with neurological symptoms and >50% stenosis of the common or internal carotid artery by either ultrasound or angiogram OR patients without neurological symptoms and >80% stenosis of the common or internal carotid artery by either ultrasound or angiogram; and patients having a vessel with reference diameters between 4.8 mm and 9.0 mm at the target lesion.5
CGuardTM material: Nitinol
MicroNet™® material: Polyethylene Terephthalate (PET)
 
 Diameter
Length
 6mm
7mm
8mm
 9mm
10mm
20mm
CRX0620
CRX0720
CRX0820
CRX0920
CRX1020
30mm
CRX0630
CRX0730
CRX0830
CRX0930
CRX1030
40mm
CRX0640
CRX0740
CRX0840
CRX0940
CRX1040
*60mm
CRX0660
 
CRX0860
 
CRX1060
*60mm sizes are not available in Australia
---
CGuardTM EPS is an investigational device in USA. 
References: 1. Musialek P et al. PARADIGM-Extend Prospective Academic Trial: Accumulating long-term evidence for MicroNet™-covered stent safety and stroke prevention efficacy. Presentation at ESC Congress 2019, Paris, France, 31 August 2019 to 4 September 2019. 2. Wissgott C et al. J Endovasc Ther 2017;24(1):130–137. 3. Musialek P, Hopkins LN, Siddiqui AH. Postepy Kardiol Interwencyjnej 2017;13(2):95–106. 4. Schofer J et al. JACC Cardiovasc Interv 2015;17(8):1229–1234. 5. CGuard™ Instructions for Use.